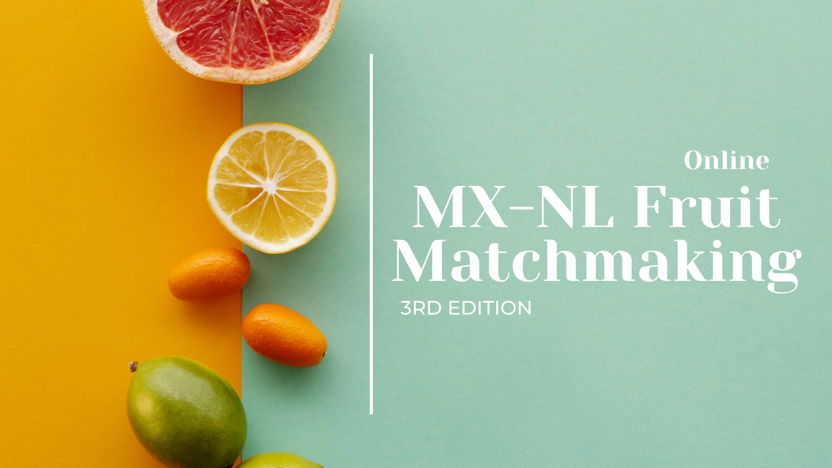 More about event
Holland House Mexico and United Producers of Mexico offer a unique opportunity for Mexican agroexporters to connect with potential buyers from Europe through this event, each participating company will have its own personalized business agenda.
The main objective of the MX-NL MATCHMAKING is to establish effective and lasting contacts between importers in Europe and exporters from Mexico of
agricultural products such as fresh fruits.
PARTICIPANTS - MEXICO
For Mexican exporters, the NL-MX's Fruit Matchmaking program is aimed at companies of agricultural products that are looking to expand their client portfolio.
For this purpose, it is essential that the participating companies have the appropriate certifications to be able to export to Europe.
GlobalG.A.P. (production and packaging)
Organic (production, packaging, and commercial units)
SMETA or Global Grasp
Fair Trade
Rainforest Alliance
Cost USD 189*
(+16% VAT)
PARTICIPANTS – EUROPE
On the European side, the proposed program targets importers looking for qualified suppliers of agricultural products from Mexico. These importers may or may not distribute the products in other countries within the European Union.
Free participation.
Program:
WEDNESDAY 7 JUNE
Welcome Day 1
08:00 - 08:15 Welcome words: Erik Plaisier, Agricultural Counselor - Embassy of the Kingdom of the Netherlands / Desirée Colome, Economic & Commercial Affairs Officer - Mexican Embassy to the Kingdom of the Netherlands
Conference
08:15 - 08:35 Mexican Fruit Hub - Lia Bijnsdorp, CEO & Paulina Echagary, Export Quality Manager/ UPM
Sponsor
08:35 - 08:50 Industry leader in turnkey solutions for the grading and packing of fresh fruit and vegetables - Aweta
09:00 - 11:00 Matchmaking Session
Sponsor
11:00 - 11:15 How do firmness measurements improve the supply chain of avocados? - Experience Fruit Quality
Conference
11:15 - 11:45 Credit insurance as a tool for growth and risk management - Paola Fajardo & Hugo Reyes, Comercial / Atradius
End of the day
THURSDAY 8 JUNE

Welcome Day 2
08:00 - 08:05 Welcome HHM / UPM
Conference
08:05 - 08:25 Sustainability in APEAM - Maria Isabel Larragoiti Suárez, Sustainable Development Manager / APEAM AC
Sponsor
08:25 - 08:40 Multi-use, traceable packaging solutions: Reduce costs and become sustainable - Newwen
08:40 - 10:40 Matchmaking Session
Conference
10:40 - 11:00 Biotechnology for efficient use of resources and maximising the quality of the crop - Tomás Araujo Bojórquez, Area Sales Manager /Symborg
Sponsor
11:00 - 11:15 Post-harvest Technology "The Formula for Success" - Hortimaq
Conference
11:15 - 11:45 Susana Illsey / Agroformas
Closure
Thank you to our Sponsors:
MX-NL Fruit Matchmaking 2023
Date

7 June 2023 - 8 June 2023

Time

8:00 AM - 12:00 PM